Orthopaedic Implant Coatings
Implant surfaces have a decisive influence on the results of orthopaedic operations. DOT has the technical capabilities to manufacture virtually any surface desired.
Read more>>
Coatings for Dental Implant System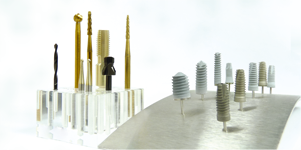 Osseointegration of dental implants depends mainly on structure and features of the implant surface. DOT offers subtractive as well as additive surface treatment techniques for structuring of implant surfaces.
Read more>>
Coating of Vascular Products
The success of interventional treatments of arterial vessels largely depends on the surfaces of the materials employed. Using its advanced technologies, DOT applies drugs onto stents and balloon catheters.
Read more>>