Technology

This TPS coating is applied in a vacuum and achieves a high level of porosity combined with good and adequate coating adhesion. This technique makes coating bioinert plastics with a biocompatible and bone attractive surface possible.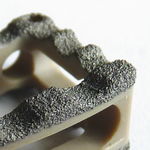 Range of Application
Orthopaedic implants and implant components made from PEEK
Advantages of the Procedure
Surface enlargement without thermal microstructural changes to the implant material
Improved fatigue strength of the implants compared with sintering techniques
Increased purity and adhesive strength compared with other methods (e.g. APS Atmospheric Plasma Spray)
Properties
Properties of the PEEK material will not be modified by the TPS coating.
Color: gray
Coating thickness: 50-250 µm
Roughness Ra: 20-40 µm
Porosity: 20-60 %
Adhesion strength: ≥ 22 MPa
Biocompatible