17th EFORT Congress, Geneva, 01st – 03rd June 2016
At this years' EFORT congress DOT attended with a considerably enlarged exhibition booth. Visitors paid special attention to our titanium nitride coated "giant knee". It was obvious that meetings were focused on our Swiss and French customers in the Geneva Palexpo. In contrast to recent congresses where many new contacts could be established, this year we mainly talked to existing customers and their sales teams, discussing various topics centered around the functionality of coatings.
DOT GmbH takes part in SOFCOT for the first
This year's French Association of Orthopedists (SOFCOT) congress was held from 8th to 11th November at the Palais des Congrès in Paris. For the first time, DOT GmbH was among a total of 143 exhibitors. By participating, we aimed at presenting the range of products that DOT has to offer to French implant manufacturers and orthopedic surgeons. Various subjects of interest were discussed with customers who were represented at the congress. The industrial exhibition gave us the opportunity to visit our customers who are based in the Paris region and to venture into new territory. The exhibition team is satisfied with the results. We have managed to assess the potential of the French market and to restore various contacts in the industry.
16th EFORT Congress, Prague, 27th – 29th May 2015

At this year's EFORT in the Prague Congress Center, there were again many visitors at the DOT booth. Company representatives were mainly interested to hear about TPS coatings on spinal products made of PEEK and also about the possibility to apply BONIT® calciumphosphate coatings on AM produced implants. Besides developing new business, EFORT gave good opportunities to discuss coating-related questions with our long-standing customers.

36th IDS, Köln, 14th-16th March 2015

IDS lived up to her claim as the world's flagship fair for the dental industry with 138,500 professional visitors from 151 countries this year. The trade show gave us the great opportunity to present our services and products. We were able to establish many new contacts. We also met our existing customers from all over the world. We are very satisfied with the results of the trade fair.

OMTEC

For the first time since 2006 DOT attended the OMTEC Supplier Exhibition and Conference in Chicago on 11th and 12th June. In addition to meetings with customers, many new contacts could be established. Moreover, OMTEC served as a good platform for DOT America, Inc., currently preparing for production, to inform interested US orthopedic manufacturers about the services planned to be provided by the facility in Columbia City, Indiana.

15th EFORT Congress London

This year again visitors showed high interest in DOT's range of services. The questions were focused on the application of the BONIT® calciumphosphate coating on implants produced by methods of Additive Manufacturing. Furthermore, specific coatings for allergy patients were the subject of many discussions at the DOT booth.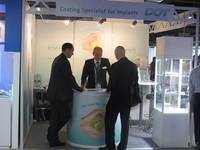 14th EFORT Congress in Istanbul
From 5th to 8th June, the 14th EFORT Congress was held in the Turkish metropolis of Istanbul. DOT GmbH again participated at the industrial exhibition with her own booth. Since 2007 DOT has been among those industry representatives who use the exhibition to introduce their range of services to surgeons and scientists from Europe and overseas present at the congress. Moreover, each year EFORT offers excellent opportunities to talk to existing customers and to establish new business relations.
35th IDS, Cologne, 12 to 16 March 2013
The IDS once again lived up to its reputation as the world leading trade fair in this year. The proportion of international visitors has increased once again compared to 2011. The IDS of Cologne is the ideal place for us to meet existing customers and new customers. We are pleased about the outcome of the trade fair.
Minister for economic affairs hands over development funds
Harry Glawe, the minister for economic affairs of Mecklenburg-Western Pomerania, visited DOT on 19th November 2012. He handed over development funds in the amount of 367,000 euros for the implementation of a collaborative research projects on the development and production of patient-specific implants. The project runs for two years. It is carried out in a jointly sponsor ship by DOT GmbH, University of Rostock and Institute of Polymer Technology (IPT) Wismar. The aim of the project is the production of individual implants using 3D modeling, generative production and use of appropriate coating technologies is. The University of Rostock collects the medical data of patients to indicate the implant geometry and define the operational and biomechanical requirements. On this basis, 3D models are designed for the individually adapted implants. The development and production is the responsibility of the Institute of Polymer Technology (IPT) Wismar, while DOT GmbH has taken over the development of coatings. DOT Director Prof. Neumann summed up the strategic objective of the project as follows: A promising niche market can be filled with the production of individual implants. We are convinced that we can establish new and attractive jobs after the successful completion of the cooperative project.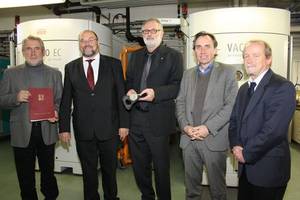 (from left: Prof. Hans-Georg Neumann (DOT GmbH), Minister for economic affairs Harry Glawe, Prof. Harald Hansmann (IPT Wismar), Prof. Rainer Bader (University Rostock) and Dr. Dieter Klinkenberg (DOT GmbH)
Minister for Economic Affairs visited DOT
On 13th April, Mr Harry Glawe, Minister for Economic Affairs of the Federal State of Mecklenburg-West Pomerania, visited DOT. After a company tour Mr Glawe was impressed by the range of technologies for surface modification developed by DOT since her foundation 20 years ago.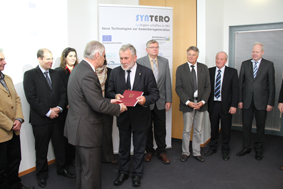 Official Kick-off for SYNTERO Project
On 7th October the SYNTERO project was officially started in Rostock. It is the largest cooperative project ever operated by the University of Rostock jointly with four biomedical companies and the University of Greifswald. Basic aim of the project is to develop new technologies for tissue regeneration. DOT GmbH is one of the four industrial project partners.
Presentation of the government funding letter ©Rostock-Heute.de
OrthoTec 2011, Zurich
For DOT GmbH this year's OrthoTec was again an important forum to meet customers and potential new business partners. On both exhibition days (28th and 29th September) DOT's services were discussed with a great number of visitors at the exhibition stand. Good traffic on the exhibition floor and interesting lectures characterize OrthoTec as a most important meeting place for suppliers of the orthopedic industry.
"Visite" Health Magazine
On 13th September 2011 the TV health magazine "Visite" reported on the topic of "Copper coatings on prostheses". The development of antibacterial copper coatings is one of the core fields of DOT research.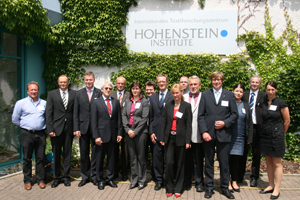 Antibacterial Coatings Introduced
With the aim to reduce the risk of antibacterial infections DOT GmbH has developed a specific coating for Häfele GmbH & Co KG located in Nagold. This coating was introduced during a press conference with hygiene experts on 06th July 2011 in the Hohenheim Institutes. As a leading international provider of furniture fittings, Häfele will offer the innovative surface solution for sensitive areas, such as clinics, retirement homes, doctor?s offices, schools and playschools. Applied on door and drawer handles, handrails and surfaces, the coating prevents effectively against affection of bacteria, such as MRSA. Under the name of ALASEPT the new coating is directly available on the market.
(Source: Press release of Häfele GmbH & Co KG dated 14th July 2011; see also www.haefele.de)
12th EFORT Congress, Copenhagen, 1 to 4 June 2011
This year the 12th EFORT Congress took place in Copenhagen. More than 6000 surgeons and specialists met in order to exchange latest scientific results in the orthopedic field. Medical specialists from more than 30 countries were discussing progressive trends in all orthopedic areas. DOT was participating in the industrial exhibition and could present latest coating developments to the medical professionals.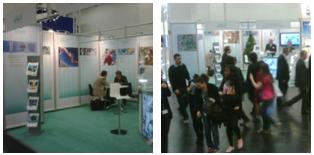 34th IDS, Cologne, 22 to 26 March 2011
This year's International Dental Show was very successful for DOT. Due to the high number of international visitors Cologne was the central meeting point for our existing customers. Thus the IDS served as an ideal event for customer care. In addition, business links could be established to new distributors and new markets.