High standards of quality and safety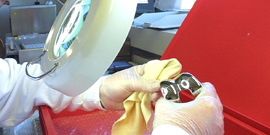 Quality
As a medical technology company, we understand the great importance of quality to our customers. Deficient products in the health care sector may lead to considerable consequences for manufacturers and patients.
Therefore we have incorporated a modern quality management system which is continuously improved in cooperation with our customers in order to meet highest demands of product safety.
DOT is certified to manufacture medical devices in accordance with the international quality management standards for manufacturing medical devices DIN EN ISO 13485. Our quality and safety standards are also compliant with the demands of Good Manufacturing Practice (GMP).