Calcium Phosphate Coatings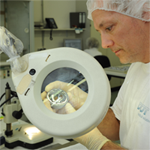 Calcium phosphate coatings are used in medical coating technology, because they ensure faster bone ongrowth, promote a strong connection between the implant and surrounding tissue and therefore are able to reduce the healing time.
DOT offers the following calcium phosphate coatings:
BONIT®
BONIT
®
is an electrochemical coating technique developed by DOT that is used to apply a thin, resorbable calcium phosphate layer on orthopaedic implants.
Read more>>
Contact us - we are pleased to advise you!